Checking Out California
Holiday in San Francisco
January 2002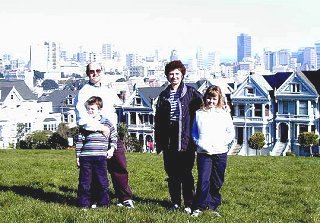 A bit of Californian sunshine was just what we needed at the darkest solstice. So with air fares and hotel rates at an all-time low, we headed for San Francisco for a couple of weeks.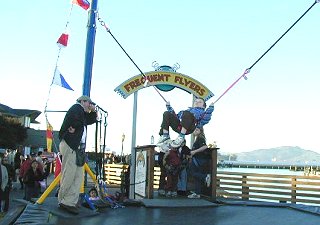 Henry does a back-flip on the high-wire to entertain the sea lions in the bay.
We did all the tourist stuff and boy were the shopkeepers and restauranteurs glad to see us down on Fisherman's Wharf. It was almost deserted. Still that meant that the queues were short and we could try out everything.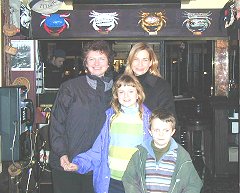 Check out the crabby things behind us - no, not Aunty Laurie - the crustacians! The Crab House does a great Killer Crab - broiled Dungeness crab from the bay. Laurie dropped in to join us for charades, crabs legs and Pinot Grigio.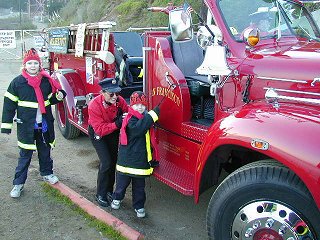 Alice and Henry take turns to ring the bell of the big, red shiny Mack, Fire Engine. How can you spot a tourist in San Francisco? Well, they're rare but they are mostly dressing up in fireman's outfits and riding around in open-topped 1955 pumping cars...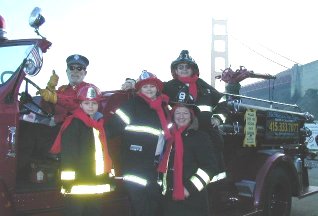 ...and driving over the Golden Gate bridge to entertain the residents. Its not quite as embarassing as it sounds (but its close). Now we know what a San Francisco fireman sings on his way to tackle a conflagration. All part of Andrew's research on fire-following earthquake.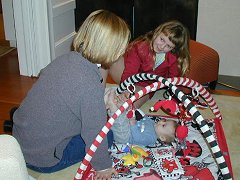 And we dropped in to see the latest member of the Shah family - Dante is four months old. Here Alice and Danielle give him a work-out in his play gym. His father, Hemant has a new gym membership too. Its quite different to Dante's. He says.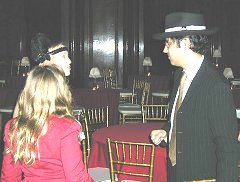 And we were there in time for the RMS Holiday Party - it was a 1930s Prohibition Party. Hemant and Danielle were in costume. Alice learnt some of the finer points of running a protection racket.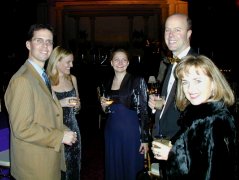 Other drunken and debauched guests at the holiday party included Peter and Ellen Ulrich, Scott, Tamsin and Clare. Also thanks to Peter and Ellen for having us to their home for dinner one evening.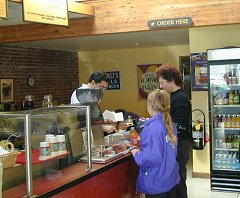 Most of our exploration was by coffee shop trial. You learn a lot about a district from its coffee shops. The Coffee Shop Guide to the Bay Area by the Coburn-Mulligan Family is now in preparation.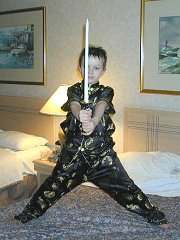 And we had a lot of fun in China Town. Guess what Henry bought in China Town.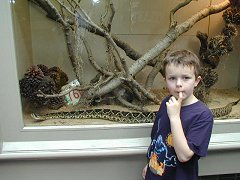 Henry ponders a python. Great trips to the Natural History museum, an aquarium, a reptile house, er... another aquarium, meant that we have seen every predator in captivity in San Francisco.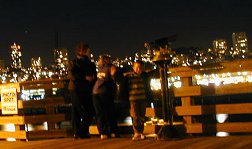 Great night life. Helen, Alice and Henry watch the lights of the city of San Francisco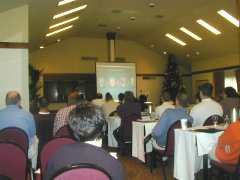 But for Andrew, it was still a business trip. While the family did the shark pools and the picnics in the parks, Andrew boned up on the finer points of sales and service at the company client development conference. (yes, Hemant really did show this slide of the four parts of a catastrophe model).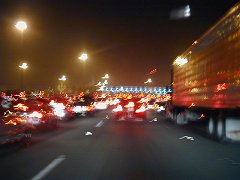 And then drove home again in the evening. This is the toll plaza of the Bay Bridge in Oakland at 6 p.m. Thirty lanes of a half mile tailback. Spectacular in its own gruesome way.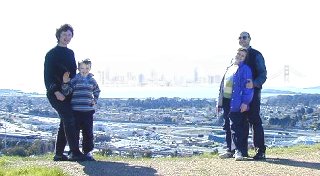 From the heights of El Cerrito you can see back across the bay to the distant city skyline of San Francisco and, on the right, the Golden Gate bridge.
What a great trip!
---
2002