Family News and Memorabilia
---

Our annual newsletter - the Coburn & Mulligan Gazette, featuring the most recent, but also the past five years. Forgotten who we are? Made contact again after a long absence? Catch up on our recent news!
---

Our Christmas card archive. The past several years of designs and some of the explanations.
---
Memorabilia
Coburn & Mulligan family memorabilia includes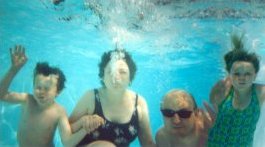 Profiles of our past family hols
---

featuring some of our favourite snaps.
---
[Page Repaired 2010]