Bumps & Carnage 2013
The Next Coburn & Mulligan Party
to watch the University College Rowing Races from the river banks of Ditton Corner
will be held on
Saturday 15 June 2013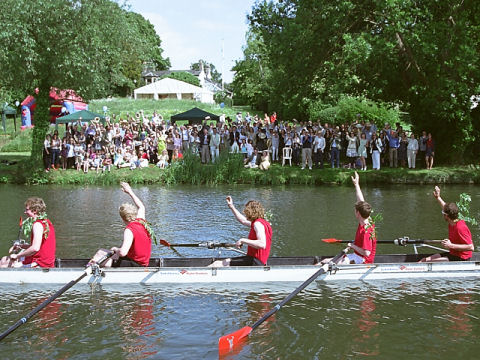 The party that is so good that the rowers salute the spectators....
---
Bumps & Carnage University College Rowing Races
Order of Events
Saturday 15 June 2013
Provisional Programme - Timing and events may change
Note - This year the party will start at 2pm
2:00 pm - Drinks and Welcomes on the Lawns
2:00 p.m. Women's Division 3
2:45 p.m. Men's Division 3
* 3:00 p.m. Group Photograph *
3:15 p.m. Tea in the Marquee
3:30 p.m. Women's Division 2
4:15 p.m. Men's Division 2
5:00 p.m. Women's Division 1
5:45 p.m. Men's Division 1
Rowing orders for the boats in each division can be found at
http://www.cam.ac.uk/societies/boatclub
---
How to Find Us
Ditton Corner, 5 Church Street, Fen Ditton, Cambridge CB5 8SU
Apologies - there's no parking at the house, but there are two paid parking sites nearby that are provided for Bumps visitors.
They'll be signposted on the day: Fen Ditton Recreation Ground, and The Paddock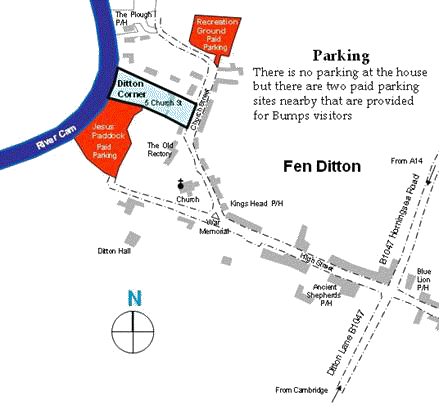 ---
What are the Bumps?

A quick guide to the May Bumps, which are of course, held in June.
---
Boaters & Bonnets... a Brief History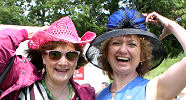 2012
Hats optional but preferred
Check out the hats they wore in 1910
---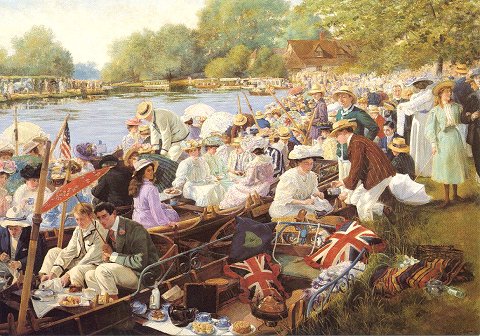 The Bumps at Ditton Corner
This painting of the Bumps day crowds at Ditton Corner was painted by Percy Robert Craft in 1906.
The Percy Craft painting was re-discovered in the archives of the Cambridge Guildhall in 2001 and took over a year to restore. It is now on display in the Cambridge Tourist Information Centre. It pictures in accurate detail the crowds who turned out in 1906. Hats were clearly an important part of the occasion, as can also be seen on all the hats assembled in the photograph of our house in 1910. Please wear an appropriate hat to help us recreate the atmosphere of the occasion. A group photograph is scheduled for 3 p.m.
---
Yester-Bumps
Remember those previous Bumps parties?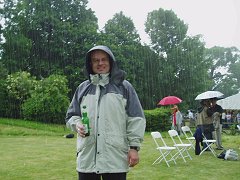 Revisit previous events. We've partied on, come rain, come shine...
---
Convinced Yet?

e-mail us and let us know.
---
2011 Cheshire Cat Productions